What can we help you with?
Porcini Pizza Topping Recipe
The porcini mushroom is meaty, and the taste is intense: rich and woodsy with subtle nutty undertones.
Porcini, Cep, Penny Bun are just some of the names given to a group of delicious Boletus mushrooms. Three similar Boletus species occur in the Cape Town area, of which the Porcini (Boletus edulis) is known as the 'true' porcini, but the Summer Bolete (Boletus reticulatus) and the Oak Bolete (Boletus aureus) are extremely similar in texture, taste and structure. As all three of these delicious mushrooms occur in the Cape Town area where we forage our mushrooms, our dehydrated porcini product may contain any one of these three species or a mixture.
Widely known across the world these mushrooms are highly regarded as one of the tastiest and most flavorful mushrooms around. Their rich, nutty taste and firm texture makes them highly sought after. They can either be eaten fresh or they can be preserved through dehydration and used at a later date. We have found that dehydrating them concentrates the flavor of the mushrooms and provides a product that can be used whole or ground up to a powder to add a punch of flavour to soups, stews, pasta sauces and even as seasoning. Kept in the right conditions, dehydrated porcini can last for a year or more (it gets eaten by us too fast to assure that it will last over a year!).
This recipe is something that we've played around with for some time and has become a staple base for a variety of meals in our kitchen. Delicious as a pizza topping, a base for a pasta sauce or a tasty addition to canapés.
Cook time on this is around 30 mins and is quite easy to keep track of while you're cooking or preparing other dishes.
Ingredients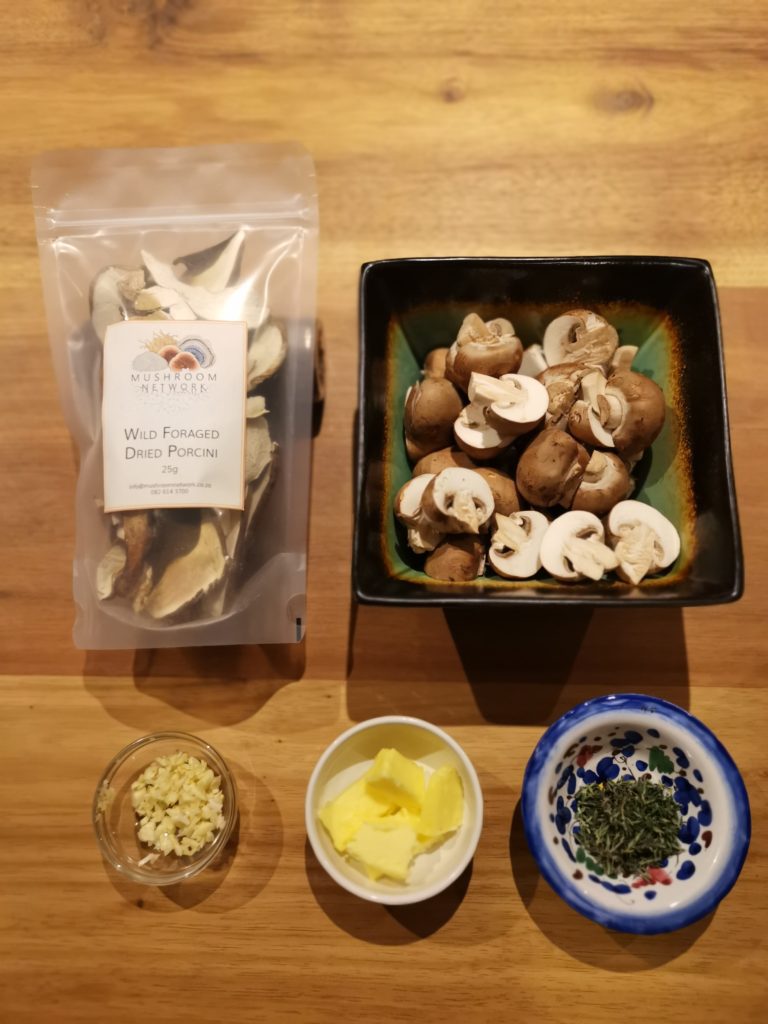 25g Dehydrated Porcini
100g Portobellini sliced into quarters or halves depending on size (optional but recommended)
1 large clove of garlic (diced)
1 tablespoon of butter
1 Tablespoon of fresh thyme
Salt and pepper to season
2 cups of Water
Preparation
Although we take care to clean our mushrooms thoroughly before we process them, there is a chance that some grit or sand may be left behind. For this reason, we recommend the following method to prepare your porcini for cooking:
In a bowl, soak your dehydrated porcini in warm water for 10-15 minutes. Remove mushrooms from water and place in a colander and rinse under running water. Strain the original water the mushrooms were soaked in through a cheese cloth or coffee filter and set aside.
Step 1: Using a frying pan, add the rehydrated porcini and portobellini mushrooms to the pan together with the strained soak water when rehydrating the mushrooms. Add enough extra water to the pan to cover the mushrooms.
Step 2: Bring the water and mushrooms to boil, stirring regularly. Once reaching a steady boil, turn the heat down to medium and bring to a simmer. Stir regularly and cook until most of the water has evaporated. At this point, add another cup of water and repeat the process until all the water has been evaporated.
Step 3: Turn the heat up a little, move the mushrooms to one side of the pan and add the butter to the other side allowing it to melt. Add the diced garlic to the melted butter and fry until the garlic starts to brown, being careful not to burn it. Remove from the heat and quickly stir the mushrooms and garlic together making sure to mix them thoroughly. Optional: Add diced fresh chilli for some extra zing.
Step 4: Scoop the mushrooms into a bowl, add the fresh thyme and mix thoroughly. You can now use this as a delicious pizza topping or use in a pasta sauce (makes the perfect addition to a creamy alfredo sauce!)